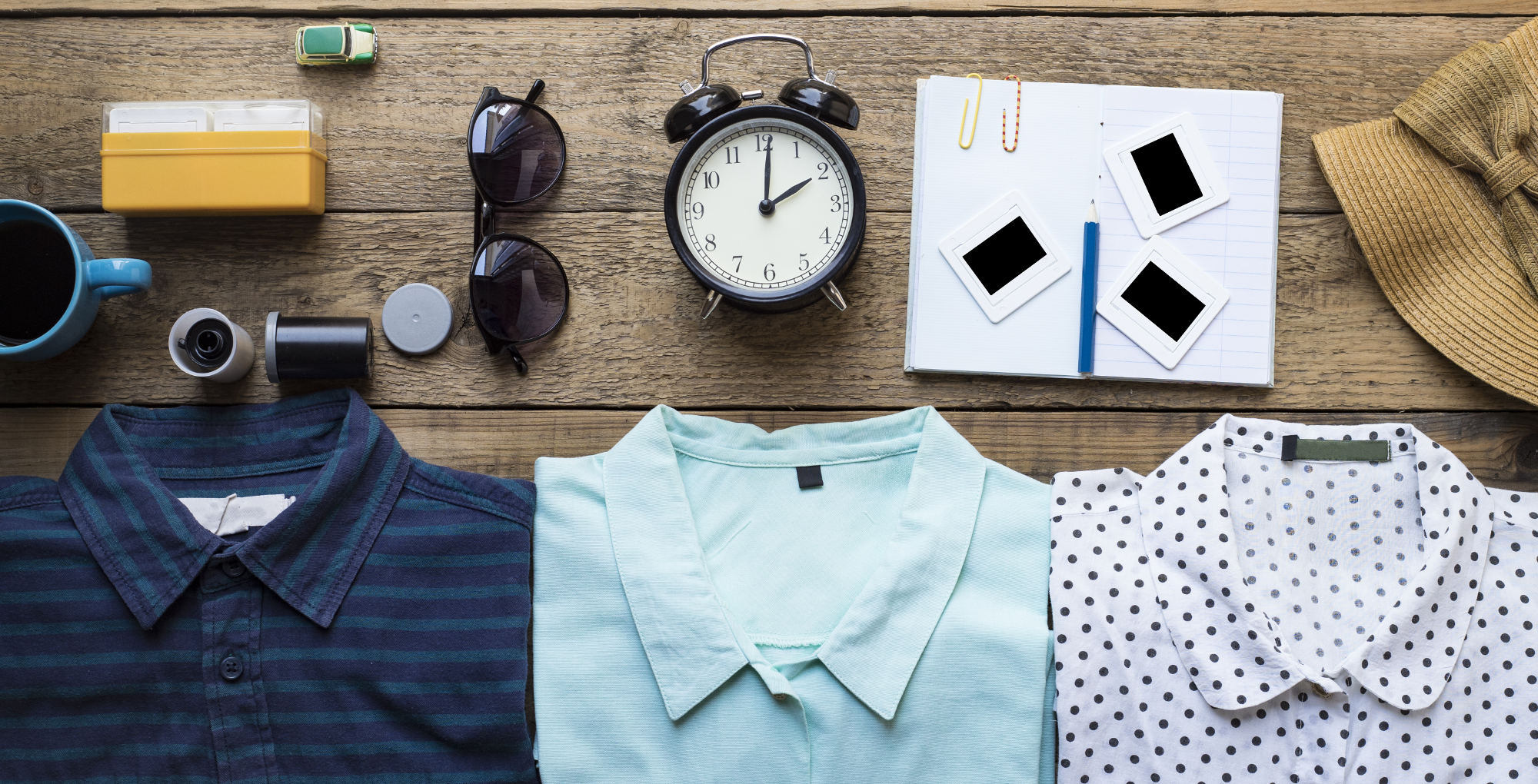 Packing List: Europe in the Summer
Weather Lowdown
May in Italy can be warm. It's not typically as blisteringly hot and humid as Italy can be later in the summer, but that kind of weather is also not out of the question in May. In the last decade (give or take), summer heat waves have been striking Italy earlier in the year, often making May unseasonably hot.
Early May tends to be more temperate, though remember that the weather gets warmer as you go south. Do keep in mind that even if the days are warm, the nights might cool off enough that you'll want a light layer for your walk back from your dinner. Rain isn't unheard of, either, so pack that umbrella or rain jacket. Average low and high temperature in May for Rome ,Venice and Florence – 55 – 75 degrees Fahrenheit.
Electrical
You want a voltage converter for any device which doesn't have a built-in step-down converter. Laptops, iPhones, iPads are examples of devices which will do their own voltage conversion and don't need a converter. They just need a plug adapter.
Other electric appliances, such as hair dryers, curling irons , need both a converter and an adapter (though converters almost always include the plug adapter) because they can't do their own voltage conversion and the European circuit will overload the appliance and burn it out. You can purchase both adapters and converters at Amazon.com.
If you see a range of voltages printed on the item or its plug (such as "110– 220"), you're OK in Europe. Some older appliances have a voltage switch marked 110 (US) and 220 (Europe) — switch it to 220 as you pack.
Tourism Taboos
No matter the season, touring any of Rome's iconic churches requires respectful, modest clothing. Never don anything with potentially offensive slogans or images. Shoulders and stomachs should be covered, and shorts should be avoided. Women should keep their knees covered, but if you insist on baring your legs and arms in the heat, carry a sarong and scarf to throw on inside the church. Particularly at the major monuments, church officials won't hesitate to hand tourists embarrassing hospital gown-like garments to cover up, or even occasionally turn people away.
Pick Pockets
Cities such as Rome are known for pick-pockets on foot and motor scooters, so include a money-belt or neck pouch to secure your cash and documents on your body while touring each day. Please leave all valuable jewelry and other valuables at home. You can wear fashion or costume jewelry .
GENERAL LIST
Personal Electronics & Chargers & Cables – extra memory cards, batteries, USB flash drives. •Small travel hair blowdryer/ curling iron/ flatiron – ( Note – both hotels offer blowdryers in their rooms )
Plug adapters / converter
Mini First Aid Kit
Mini Flashlight
Personal toiletries
Small ziplock of laundry powder – NOTE. Hotel Shampoo works well as laundry soap.
Shout Wipes are great spot removers
Sunblock
Light weight rain jacket / Travel size umbrella
Glasses / contact lenses – Carry an extra pair of glasses in a solid protective case.Carry your prescriptions.
Sunglasses
Medicines ( where applicable) – Keep medicine in original containers, if possible, with legible prescriptions.Copy of prescriptions.
Motion Sickness medication
Hand sanitizer
Inflatable pillow (or neck rest). These are great for snoozing in planes, trains, and coaches.
Small binoculars. For scenery or church interiors.
Duct tape. A small roll of duct tape can work miracles as a temporary fix — mending a punctured bag, solving an emergency shoe problem, and so on.
Fold-up tote bag. Look for a large-capacity tote bag that rolls up into a pocket-size pouch. Use it for laundry,and those extra souvenirs you want to take back home.
Small Locks . Use it to lock your backpack zippers shut. Note that if you check your bag on a flight, the lock may be broken to allow the bag to be inspected. Improve the odds of your lock's survival by buying one approved by the Transportation Security Administration — security agents can open the lock with a special master key.
Hat / Baseball cap- to protect against the sun
Noise reducing Head phones / earbuds
Earplugs . If night noises bother you, you'll love a good set of expandable foam plugs. They're handy for snoozing on flights.
A couple of small washcloths
Alarm clock
Insurance policy ( if purchased )
Small sewing kit
Small packet of tissues
OTC (over the counter ) remedies (whatever works for you): Pepto, decongestants, etc.
HIS LIST
2 – 3 pairs of pants – one dressy, two casual. Cotton blend is recommended: When washed or if they get wet in the rain, it dries faster than jeans. If you like to wear jeans, wear them on the plane so they don't take up room in your suitcase. Light-weight khakis always look good. Many gentlemen like lightweight convertible pants / shorts with zip off legs. This style can be functional as you can use them to cover up inside Cathedrals/churches.
Several pairs of walking shorts – lightweight material
A variety of shirts in a cotton/polyester blend. Shirts with long sleeves that roll up easily can double as short-sleeved. Synthetic-blend fabrics ( for example Coolmax or light weight microfiber) often dry overnight. Lightweight Polo shirts look smart as well. T-shirts are great for layering.
1 Nice Sports Coat or Jacket ( always dresses up any outfit) – Optional
Lightweight but warm sweaters or fleece – gives you layering flexibility to move from Italy's moderate daytime temperatures to the cooler evenings.
Lightweight underwear and socks
Sleepwear
Swimsuit ( just in case )
Tie
Note – Wrinkle resistant fabrics are beneficial.
HER LIST
2-3 pairs of pants – one dressy, one casual; cotton blend is recommended: when washed or if they get wet in the rain, it dries faster than jeans. If you like to take jeans, wear them on the plane so you don't have to pack them.
Several pairs of shorts/capris (shorts are fine, but generally not in Cathedrals/churches; capris covers the knees so they are OK anywhere )
A variety of polos / blouses or shirts ( long sleeved , short-sleeved, various colors – synthetic blend fabrics often dry quickly ) T shirts are great for layering.
Lightweight but warm sweaters or fleece – gives you layering flexibility to move from Italy's moderate daytime temperatures to the cooler evenings.
1 nice blazer or jacket ( can be worn with pants, skirt or over a dress to dress it up ) – Optional
1 skirt (lightweight ) – Optional
1 Dress ( lightweight) – Optional
Lightweight Larger Scarf – easy to pack and instantly dresses up any outfit. Plus is a good cover up in the Cathedrals and churches. Also covers shoulders in cold restaurants, museums or on a cooler evening.
Swimsuit
Sleepwear
Lightweight underwear, bras and socks ( Choose light weight blend fabrics 100 % cotton takes a long time to dry )
Note – Wrinkle resistant fabrics are beneficial.
FOR EVERYONE
1 pair of comfortable, broken in walking shoes….there will be a significant amount of walking.
2nd pair of walking shoes ( also broken in ) in case 1 pair get wet.
Ladies – Nice pair of flats or sandals – Optional
Black Concert Attire including Dress shoes
Documents, Money,and Travel Info
Money belt (or neck wallet). This flat, hidden, zippered pouch — worn around your waist (or like a necklace) can be tucked under your clothes — is great for your peace of mind . Purchase a lightweight one with a neutral color ( eg. beige)
Credit cards, debit cards – Please notify your bank or financial institution that issued the cards that you are traveling overseas. It is called a Travel Alert – you will have to inform them what countries you are visiting and the dates of travel. This is very important as if you do not notify them, and you attempt to use that card overseas, they will immediately freeze or block your card for the duration of the trip.
Documents. Bring your passport; driver's license; and any other useful cards . Photocopies and a couple of passport-type photos can help you get replacements more quickly if the originals are lost or stolen. Bring any necessary contact info if you have health or travel insurance.
Small notepad and pen. A tiny notepad in your back pocket or day pack is a great organizer and reminder.
Journal. An empty book to be filled with the experiences of your trip can become a most treasured souvenir.
Small day pack. A lightweight small pack is great for carrying your sweater, camera, personal items etc. , while you leave your large bag at the hotel . Cross body bags are very good – they are very difficult for a thief to remove from your shoulder. Don't use a fanny pack — pickpockets love them .
Visiting Cathedrals / Churches in Europe – Same for both sexes – covered shoulders and covered knees, please remove hats once inside. If there is an attendant , rules probably will be enforced.
Safe Travels Bon Voyage!