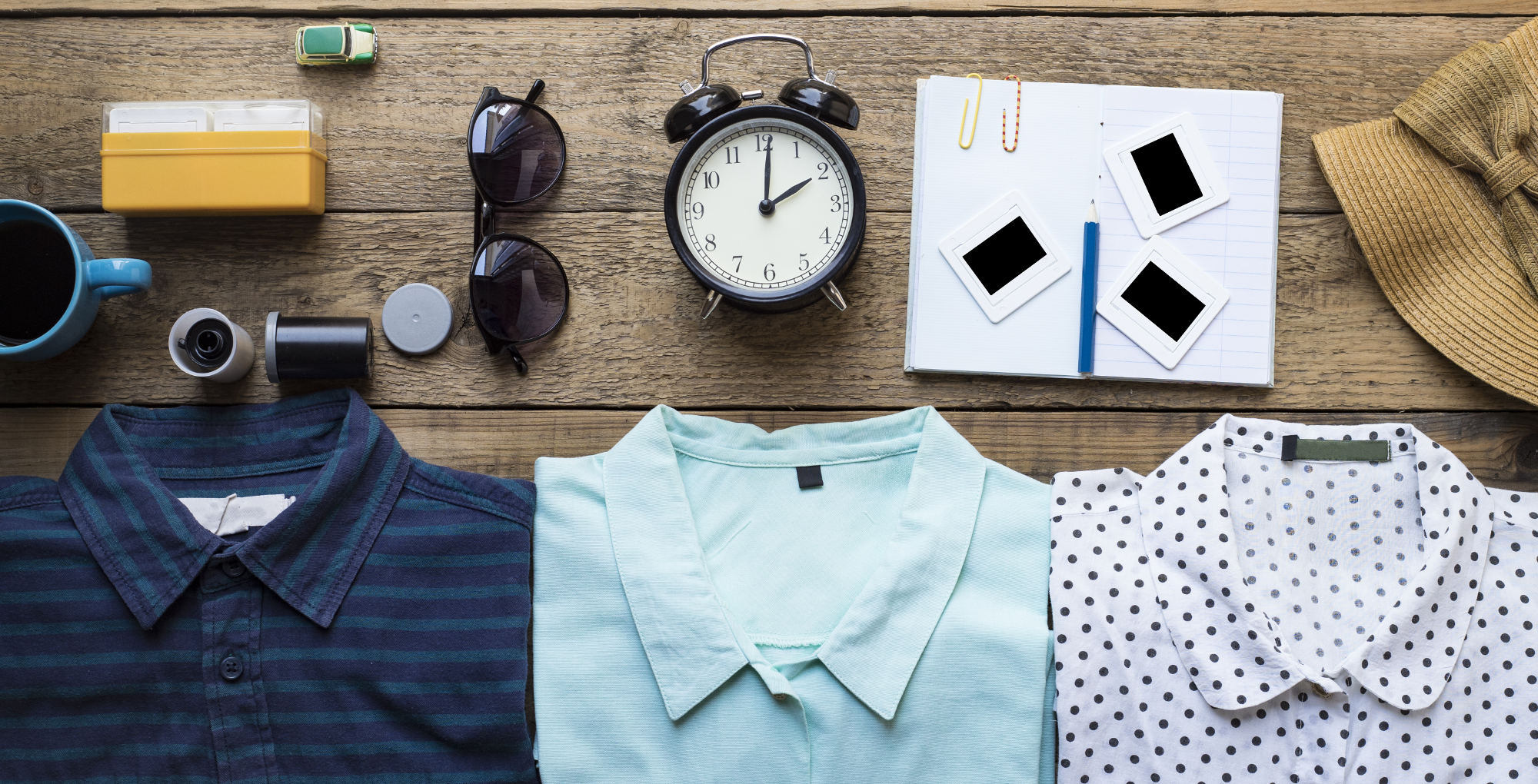 Travel Tips and Packing List
Below you will find travel tips and a packing list guide.
Quick Tips
Money belt (or neck wallet). This flat, hidden, zippered pouch worn around your waist (or like a necklace) can be tucked under your clothes and is great for peace of mind. Purchase a lightweight one with a neutral color (eg. beige)
Credit cards, debit cards – Please notify your bank or financial institution that issued the cards that you are traveling overseas. It is called a Travel Alert – you will have to inform them what countries you are visiting and the dates of travel. This is very important as if you do not notify them, and you attempt to use that card overseas, they may immediately freeze or block your card for the duration of the trip.
Documents. Bring your passport; drivers license; and any other useful cards . Photocopies and a couple of passport-type photos can help you get replacements more quickly if the originals are lost or stolen.
Bring any necessary contact info if you have health or travel insurance.
Small notepad and pen. A tiny notepad in your back pocket or day pack is a great organizer and reminder or use your cellphone
Journal. An empty book to be filled with the experiences of your trip can become a most treasured souvenir.
Small day pack. A lightweight small pack is great for carrying your sweater, rain jacket or travel umbrella, personal items etc. , while you leave your large bag at the hotel. Cross body bags are very good – they are very difficult for a thief to remove from your shoulder. Don't use a fanny pack. Pickpockets love them .
Guidelines
Money – Give a heads up to your credit card and debit card issuer:
Here's a scenario you'd probably prefer to avoid: You've finally arrived at your destination and begun making purchases with your credit card or debit card — and your card is declined. It's possible this happened for your own protection without your knowledge.
Credit card companies take foreign transactions seriously. They want to make sure there's no funny business happening with your accounts. And if your issuer doesn't know you're the one suddenly making these foreign transactions, they could suspend your account. Before you head out on your UK Tour, let your credit card company know when and where you will be traveling. A simple phone call beforehand will save you a lot of trouble on the road and free you up to make the purchases you need. Visa and Mastercard are the most popular cards. American Express is less common and Discover is not really known. It's a good idea to bring an extra card, as a back up. 
Phones:
Travelers who want to stay connected at a lower cost can sign up for an international service plan through their carrier. Most offer some sort of global calling plan that cuts the per-minute cost of phone calls and a flat-fee data plan that includes a certain amount of megabytes. Your normal plan may already include international coverage, as T-Mobile's does. It's a fairly painless process:
Confirm that your phone will work in the UK . Nearly all newer phones work fine abroad (as do older phones purchased through AT&T and T-Mobile), but it's smart to check with your carrier if you're unsure.
Research your provider's international rates. Plan pricing varies wildly by carrier. Call your provider or check their website for the latest pricing.
Activate international service. A day or two before you leave, log on to your mobile phone account or call your provider to activate international roaming for voice, text, and/or data (whichever features you plan to use), and sign up for any international plans.
Cancel international service when you get home. When you return from your vacation, cancel any add-on plans that you activated for your trip.
If your phone disappears, you're not just out the cost of the device — but also the photos and personal data stored on it. It's smart to take extra precautions before your trip:
Make sure you've got a "find my phone"- type app, back up your data, and enable password protection.
While traveling, use the Wi-Fi at your hotel to back up your phone and its photos each night. If you don't know how to sync your stuff to the cloud, learn before your trip.
Valuables:
Leave valuables in your hotel room. Expensive gear, such as your laptop, is much safer in your room than with you in a day bag on the streets. Hotels often have safes in the room (or at the front desk, though many find them a source of great comfort. (Some travelers leave their passports secured in the room safe while out for the day.) Theft from hotel rooms happens, of course, but it's relatively rare — hoteliers are quick to squelch a pattern of theft. That said, don't tempt sticky-fingered staff by leaving valuables in plain view; tuck your enticing things well out of sight.
Getting around London:
London's public-transit system is very good. There are train , buses, ubers and taxis. If you embrace these forms of transportation when visiting cities, you'll travel smarter. The train system in London is called The Tube.
Trains are speedy and never get stuck in traffic jams. Buses can give you a tour of the town on the way to your destination. With the proper attitude, taking public transit can be a cultural experience, plunging you into the people- and advertisement-filled river of workaday life.
Stay oriented with a paper transit-system map. Pick up a schematic map at the tourist office or subway ticket window, ask for one at your hotel, or print one off a website. Many city maps, even free ones, include a basic transit map.
If confused, ask for help. UK buses and the Tube are filled with people who are more than happy to help lost tourists locate themselves. Confirm with a local that you're at the right platform or bus stop before you board. If you tell them where you're going, the driver or passengers sitting around you will gladly tell you where to get off.
Pickpockets
Cities such as London, Bristol and Cardiff are known for pick-pockets on foot and motor scooters, so include a neck pouch to secure your cash and documents on your body while touring each day. Please leave all valuable jewelry and other valuables at home. You can wear fashion or costume jewelry .
While public transportation feels safe, savvy riders are constantly on guard. Per capita, there are more pickpockets on Europe's subway trains and buses than just about anywhere else. They congregate wherever there are crowds or bottlenecks: on escalators, at turnstiles, or at the doors of packed buses or subway cars as people get on and off. If there's a hubbub, assume it's a distraction for pickpockets — put a hand on your valuables. Be on the lookout.
Patience Is Important:
Patience is a top travel tip. Don't sweat the stuff you can't control. Life is much too short.
Take Lots Of Epic Travel Photos:
Pay attention to this travel tip. You may only see these places & meet these people once in your lifetime. Remember them forever with plenty of photos! Don't worry about looking like a "tourist". Great photos are the ultimate souvenirs.
Observe Daily Life Around You:
Slow down your train of thought and pay close attention to the details around you. The smells, the colors, human interactions, and sounds. It's a kind of meditation — and you'll see stuff you never noticed before. You'll really absorb the destination this way, and remember these moments long after you leave.
Tourism Taboos
No matter the season, never don't anything with potentially offensive slogans or images. There is no defined dress code when visiting any Abbey, Church or Cathedral . However, visitors are asked to dress in a "respectful manner".
Electrical
American plugs do not fit in the wall plugs in the UK. The voltage in the UK is 230 volts and in the USA it is 110 Volts. You want a voltage converter for any device which doesn't have a built-in step-down converter. Laptops, iPhones, iPads are examples of devices which will do their own voltage conversion and don't need a converter. They just need a plug adapter.
Other electric appliances, such as hair dryers, curling irons , need both a converter and an adapter (though converters almost always include the plug adapter) because they can't do their own voltage conversion and the UK circuit will overload the appliance and burn it out. You can purchase both adapters and converters at Amazon.com. Do not wait to purchase these at the airport, or you will pay twice as much. If you see a range of voltages printed on the item or its plug (such as 110 to 220), you are OK . Some older appliances have a voltage switch marked 110 (US) and 220 (Europe), switch it to 220 as you pack.
Never plug in a 110 volt appliance (such as most hair dryers) without an adapter.
Almost all modern charging units for phones, computers, etc, will work on any voltage from 110 V to 240 V. This would cover both the USA and England. Check yours to make sure it says this.
If you have a medical device, check in advance of your trip to see what voltage it will work on. Do not assume !!!
Packing List: UK in the Spring
Weather Lowdown
The weather in the U.K. can be very unpredictable! Statistics show that the average temperature is 57 Fahrenheit, with an average high of 63°F and a low of 48°F. In reality, some years it can be quite warm and some years much cooler. Rain is one guaranteed feature of UK weather. Make sure to pack accordingly. A varitey of "layerable" clothes in the UK is advised. A mixture of short sleeve Ts and long sleeve button-up shirts can be combined with the Tshirts. One medium to light weight sweater- again that you can combine with the other shirts. Take a good waterproof (windbreaker type) jacket with a hood that you can use in cool or rainy weather. Plan on starting with several layers and "peeling down" over the course of the day. The weather is so unpredictable that talking about it obsessively is one of the British people's favorite pastimes!
Uniform and Instruments
IMPORTANT – As per the school – "You are responsible for getting your uniform to take with you , to England and returning it safely to Price. If you are not returning with the group, or have separate travel arrangements, you have a couple of options for returning your uniform (and borrowed):
Have a trusted friend bring it back for you. (preferred)
Keep it with you and return it to Price when you get back to Raleigh.
With regards to instruments, you are responsible for your instruments to get to and from England. As a reminder, Dr. Garcia is paying for the transportation of all of the large instruments to and from England. Smaller instruments are counted as a main piece of carry on and the case can't exceed 45 inches ( Length + Width + Depth ) . If a case is too large to count as a carry on, Dr. Garcia will pay for it as a large instrument. "
PACKING TIP – Roll and Fold Items
Using a bit of each packing technique is the most efficient way to get things into your suitcase. Roll softer garments and fold stiffer ones. Underwear, T-shirts, jeans, cotton pants, and knitwear won't wrinkle when rolled tightly.
Travel Handheld Steamers – Steaming is an effective way to get wrinkles out of almost any fabric— it packs easily and it takes less time and effort than ironing does. Plus it works faster. Just remember to pack it without water in it.
Please do NOT pack your Passport or other important documents in your Checked Baggage.
GENERAL LIST
Covid 19 Rapid Antigen Test Kits ( purchased over the counter – pack at least 3 )
Covid 19 Masks ( just in case )
Hand Sanitizer
Travel ( collapsible ) refillable water bottle (empty)
Personal Electronics & Chargers & Cables – extra memory cards, batteries, USB flash drives.
Small travel hair blowdryer/ curling iron/ flatiron – ( Note – both hotels offer blowdryers in their rooms )
Plug adapters / converter
Mini First Aid Kit
Personal toiletries
Small ziplock of laundry powder – NOTE. Hotel Shampoo works well as laundry soap.
Shout Wipes are great spot removers
Sunblock
Light weight rain jacket with hood / Sturdy Travel size umbrella
Glasses / contact lenses – Carry an extra pair of glasses in a solid protective case.
Sunglasses
Small packets of tissues
Medicines ( where applicable) – Keep medicine in original containers, if possible, with legible prescriptions. Copy of prescriptions.
Motion Sickness medication for those that require it.
Inflatable pillow (or neck rest). These are great for snoozing in planes and coaches.
Small binoculars – optional
Duct tape. A small roll of duct tape can work miracles as a temporary fix or for mending a punctured bag, solving an emergency shoe problem, and so on.
Fold-up tote bag. Look for a medium to large-capacity tote bag that rolls up into a pocket-size pouch. Use it for laundry and those extra souvenirs you want to take back home.
Small Locks . Use them to lock your checked suitcase and carry on. Please only use locks approved by the Transportation Security Administration. Security agents can open the lock with a special master key.
Hat / Baseball cap
Noise reducing Head phones / earbuds
Earplugs . If night noises bother you, you will love a good set of expandable foam plugs. They are handy for snoozing on flights.
Insurance policy ( if purchased )
OTC (over the counter ) remedies (whatever works for you): for example – Emergen C or Airborne, Immodium or Chewable Pepto Bismol, Tylenol or Aleve, Blister Band Aids
HIS LIST
2 – 3 pairs of pants – one dressy, two casual. Cotton blend is recommended: When washed or if they get wet in the rain, it dries faster than jeans. If you like to wear jeans, wear them on the plane so they don't take up room in your suitcase. Light-weight khakis always look good. Many gentlemen like lightweight convertible pants / shorts with zip off legs. This style can be functional.
Several pairs of walking shorts – lightweight material. ( just in case there are a couple of extra warm days ).
A variety of shirts in a cotton/polyester blend. Shirts with long sleeves that roll up easily can double as short-sleeved.
Synthetic-blend fabrics ( for example Coolmax or light weight microfiber) often dry overnight.
Lightweight Polo shirts look smart as well.
T-shirts are great for layering.
1 Nice Jacket ( always dresses up any outfit) – Optional
Lightweight but warm sweaters or fleece or jacket – gives you layering flexibility to move from the moderate daytime temperatures to the cooler evenings.
Lightweight underwear and socks – when washed, these dry faster than 100 % cotton.
Sleepwear
Swimsuit ( just in case )
Note – Wrinkle resistant fabrics are beneficial.
HER LIST
2-3 pairs of pants – one dressy, one casual; cotton blend is recommended: when washed or if they get wet in the rain, it dries faster than jeans. If you like to take jeans, wear them on the plane so you do not have to pack them.
Several pairs of shorts/capris – just in case there are a couple of hot days.
A variety of polos / blouses or shirts ( long sleeved , short-sleeved, various colors – synthetic blend fabrics often dry quickly )
T shirts are great for layering.
Lightweight but warm sweaters or fleece or jacket – gives you layering flexibility to move from the moderate daytime temperatures to the cooler evenings.
1 nice jacket ( can be worn with pants, skirt or over a dress to dress it up ) – Optional
1 skirt (lightweight ) – Optional
1 Dress ( lightweight) – Optional
Lightweight Larger Scarf – easy to pack and instantly dresses up any outfit – Optional
Also covers shoulders in cold restaurants, museums or on a cooler evening.
Swimsuit ( just in case )
Sleepwear
Lightweight underwear, bras and socks ( Choose light weight blend fabrics – 100 % cotton takes longer to dry )
Note – Wrinkle resistant fabrics are beneficial.
FOR EVERYONE
Concert / Performance Shoes
1 pair of comfortable, broken in walking shoes . There will be a significant amount of walking.
2nd pair of walking shoes ( also broken in ) in case 1 pair get wet.
Gentlemen – nice pair of loafers – Optional
Ladies – Nice pair of flats or sandals – Optional
PACKING LIQUIDS
Any liquids, gels, deodorant, toothpaste, etc that you pack in your carry-on bag MUST be 3 ounces or less and fit into one clear, 1 qt. zip lock bag.
In your checked baggage, put shampoo, lotion, etc., in double ziplock bags. If these bottles or tubes pop open while traveling, they may ruin your clothes.
Safe Travels Bon Voyage!